Advertising Center
All the levers you need as an expert Amazon advertiser
Unlock a suite of intuitive and efficient tools for Amazon that save you time, earn your clients' trust, and build a confident process for Amazon PPC management.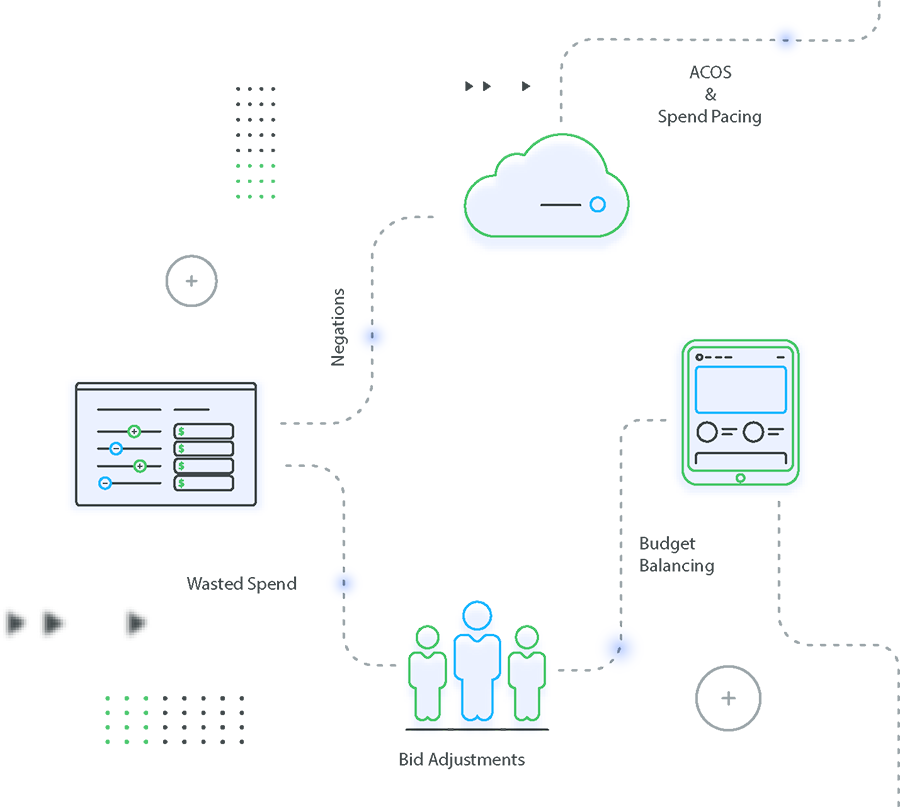 4.8+
# Hours saved per client each month using our bulk optimizations
100%
of Budgets hit using our Pacing and Budget Balancing
1
tool needed to run ads for bids, budget balancing, and negations
Stop guessing and start managing your Amazon advertising with confidence
Are you sure your Amazon accounts are in order?
Smart Amazon ads management requires the right data, right context, and right tool
What's your approach to Amazon advertising today? Do you shoot from the hip, lean on cobbled-together workflows and excel sheets, or trust automation to take care of performance for you?
Whichever path you choose, the anxiety of making sure you're on top of all your Amazon advertising efforts is taxing. How well do your actions stand-up under client scrutiny? Are you skipping optimizations because they take too much time? Can you trace your actions to results? What if we tell you we can nix the issues below with Mixshift?
"Mixshift's Advertising Center has been a force multiplier for our organization…We train our new employees incredibly quickly using the management workflows, while our seasoned managers are spending less time executing, and more time diving-deep. And as for oversight, I haven't found a tool that does as well keeping my team focused on the inputs, or our leadership in tune with client performance.
Simple, streamlined Amazon advertising control
Go from optimization hours to optimization minutes with MixShift
Experience new levels of scalability for your Amazon advertising management with Advertising Center. All the Amazon data you need delivered in the right context will make you feel like your ad management has been supercharged as you make optimizations that are truly data-informed…no more guessing needed.
We take a holistic approach to Amazon ad management, giving you visibility to all of your data without the overwhelm. With our advanced filtering features, you can zoom into parts of the account that need attention and take corrective action needed across the entire account with the click of a button.
Repeatable team workflows
Bulk bidding account-wide
Campaign budget balancing
Efficient, informed decision making makes all the difference in Amazon Ads
Put your Amazon advertising management process on the rails to client growth and satisfaction

Streamlined Amazon PPC Management
We're not into gimmicks and don't believe in automating away your expertise. Our focus is in delivering scalable, data-driven Amazon ads management with the flexibility to enable your optimization processes, not determine them for you.
Workflows & Quick Filters
At the core, Amazon advertising management is about targeting the right keywords with the right products at the right price with the right budget, all while eliminating waste. Our workflows and filters will quickly identify and act on these opportunities.

Account-Wide Negations
Quickly scrub your Amazon accounts for waste and negate the problem search terms in bulk. And should you find 'themes' to eliminate, you can survey your entire history, cleaning up the targeting well ahead of what any automated tool could identify.

Custom Data Sets, Pre-Packaged
What if you could tag campaigns and set specific goals to hit for each? We've made this possible so you can optimize your account on your terms, managing to the goals that make sense for each individual Amazon ad campaign.
Flexible, Scalable Bulk Bidding
As your Amazon ad account grows, bid management can quickly become overwhelming. We allow users to zoom in on specific keywords with good or bad performance, and adjust bids in bulk with the click of a button.
Goal-Driven Budget Balancing
What if your top campaigns aren't receiving any of your daily ad spend? Start investing in the right campaigns using our budget balancing tool, which tells you how much to spend and the ACOS impact your changes might have on performance.
We use Amazon data to build the right tools for Amazon management day in and day out
Translating data into insights and insights into action since 2010
Working for years inside Amazon, our team of Amazon experts have helped multiple agencies and businesses that sell on Amazon navigate their way through the complex world of e-commerce. Along the way, we've learned to solve market needs and management issues. Now, we'd like to share the tools for Amazon we've built to help organizations scale their business while maintaining a high level of operation and efficiency.
Training isn't just for beginners
There's no shortcut to Amazon advertising success. We're here to share not only a primer, but a deep dive into Amazon data.
Whether you're an Amazon agency, seller, vendor, investment firm, or somewhere in between, we cater our training to your specific needs and experience level. We've found that hands-on training works best, so we'll be alongside you working with live Amazon data and delivering real results before the training is even complete.
Ready to unlock your Amazon data?
Check out MixShift Data Studio.